After Builders Cleaning in London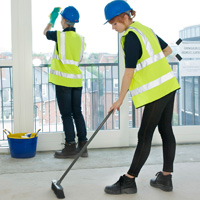 We provide after builders cleaning in London for domestic and commercial customers.
In all the excitement of a new building project, it's easy to forget the mess that builders can leave behind at the end. From dust and dirt in every crevice, to cement or plaster on the floor, or splashes of paint on the skirting boards, having the builders in really can be very messy indeed!
Every home is different but Starlet Cleaning's after builders cleaning in London can include:
Living rooms, hallways, stairs, bedrooms and more can all be thoroughly cleaned to eradicate left-over paint splatters, plaster, debris, and dust through stringent vacuuming and mopping. Furniture, mirrors, pictures can be dusted, floors vacuumed and mopped, as well as frames, sockets and switches. Walls can be dusted with a micro fibre mop.
Kitchen cleaning – We can clean kitchens after the builders have visited including ovens, fridges, the insides and outsides of cupboards, surface cleaning including sinks and taps, windows and doors including frames, skirting boards, sockets and floors. We can also remove protection foil, tape, and packaging from new kitchen units and appliances.
Bathroom cleaning – Sinks, toilets, bathtubs and showers can be intensively disinfected alongside surfaces, mirrors and floors. Bathroom and sink taps will be cleaned as well as shower heads, doors, windows and frames
What We Do
We send in our professional after builders cleaners with our own heavy-duty cleaning methods, and state of the art tools and equipment, to clean your home from top to bottom. Removing dust is often the priority, which means using different types of brushes, mops, and attachments. This level of detailed cleaning can take several cleans of surfaces, fixtures, and fittings to remove dust completely.
Specialist Cleaning
As part of our after builders cleans we can offer:
Carpet cleaning
Floor buffing and polishing services
Commercial After Builder Cleans from Starlet
As well as domestic we also offer commercial after builders cleaning in London for large and small building projects. We are fully insured and can provide COSHH, risk assessments, and a health & safety policy. We are also registered with the Construction Industry Scheme (CIS).
Contact us for a free quote
Talk to us about your after builders cleaning requirements. Each client has different needs, so we supply individual quotes tailored to your needs and conditions. Call us for a free no-obligation assessment on 0207 821 9732
We can offer free quotes for both domestic and commercial after builders cleaning in London for your consideration.