Hard Wood Floor Cleaning, Buffing, Polishing, Scrubbing, and Floor Sanding in London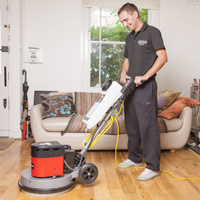 Starlet Cleaning offers a comprehensive and wide ranging floor cleaning service in London. Some of the services we provide include:
Commercial Floor Cleaning
Hard Floor Cleaning, Buffing and Polishing
Floor Sanding
Our experienced cleaners have many years in the industry and can undertake a wide range of cleaning tasks. No matter your bespoke requirements, we can come to an ideal solution.
We can provide expert floor cleaning services across the whole of the Capital at affordable rates, so if you would like more information about our floor care and floor polishing service or for a free quotation, contact us today at Starlet Cleaning – professional cleaners in London.
If you don't have bare floors, you could consider our carpet cleaning services instead.