Housekeeper Services in London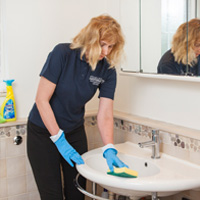 If you're almost always busy, or have a home in the capital you're often away from, it makes sense to book housekeeper services in London.
Or it may be that you live in a large household and need someone to help you keep on top of chores, errands, and home organisation.
Housekeeping means that not only cleaning but many other aspects of running your home are all taken care of leaving you to concentrate on other things. With more of us leading increasingly complicated lives and perhaps dividing our time between two or more properties, housekeepers are not just for celebrities!
But what should you expect from a housekeeper service from Starlet Cleaning?
Reliable and friendly people who are professional and trustworthy in their tasks
Housekeepers who can speak fluent English
Someone with good organisational skills who can run errands and has good family-orientated skills such as ironing and cleaning
A fully insured service
A service delivered in a legal and ethical framework with all tax liabilities taken care of
All paid for at an hourly rate of £14.00 plus VAT
Housekeeping through Starlet Cleaning
If you're looking for someone to take care of your housekeeping in London, talk to us before you do anything else.
We provide housekeepers across all areas of the city, from Ealing to Stratford, from Hampstead to Clapham. Our base in Westminster, in the heart of the capital, which makes us ideally placed to help you wherever you live in London.
Our housekeepers are highly trained and well used to taking the initiative when it comes to deciding what needs to be done so that everything at home runs smoothly.
We won't let any of our housekeepers start work for a customer until we have interviewed them thoroughly ourselves first. We check out references and passports before allowing them to begin employment. We also ensure that any staff taking care of our housekeeping are legally able to work in the UK.
We don't charge any agency fees – you just pay our directly employed housekeepers a flat hourly rate. Housekeeper services tend to cost slightly more than straight cleaning. After all, you're getting more for your money but still represent excellent value.
What our Housekeeper Service Includes
As well as hands-on daily cleaning, our housekeepers can take care of all your laundry and ironing. They can also sort out your shopping, run errands, and deal with tradespeople like builders, or take deliveries.
To book a housekeeper through us, or to find out more about how we could help run your home, give us a call on 0207 821 9732 or email us.
We'll be delighted to provide you with a free, no-obligation quote for our housekeeper services in London.