Office Cleaning Services London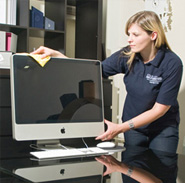 Starlet offers professional office cleaning services in London across the capital.
We understand high quality office cleaning takes far more than emptying a few bins, wiping the odd surface not taken up by office appliances and paperwork, and a cursory mop of the floor where your staff have walked up and down all day.
So what exactly will you get if you book Starlet's office cleaning services?
Office cleaners that are thorough and don't let any nook or cranny escape their attention
Reliable, attentive, and professional cleaners that are friendly and approachable
Vetted cleaners that are fully insured should any accident on your premises ever occur
An office cleaning company that can provide green, eco friendly products
Offices large and small
We provide regular office cleaning services for large and small businesses. This means that we can devise an office cleaning plan to suit your business needs, as well as the size of your premises.
Starlet's office cleaners in London
Our staff are at the heart of what we do. Everyone who works for Starlet Cleaning is thoroughly vetted. We ask for proof of address, passports, and references from previous employers are checked for every cleaner who carries out office cleaning duties on our behalf.
Good quality services you can rely on come at a premium because we believe if you want good office cleaners you must pay them a fair wage.  We've found over many years this principle benefits both ourselves and our customers who receive improved levels of reliability, and high standards of work. This doesn't necessarily make us the cheapest office cleaning company in London but we are certainly one of the most reliable!
All our office cleaners receive regular training to provide thorough, high-quality office cleaning, which meets the standards recognised by the wider cleaning industry.
Our staff are well-presented in uniforms and are supervised on a regular basis to ensure standards are always upheld.
We'll work to your times
We can organise an office cleaning schedule for you at times to accommodate your business needs. We can clean your offices in the morning or in the evening, daily, or weekly.
Office spring cleans
We also offer spring cleaning of offices, a service that includes a team of experienced office cleaners that can give your premises a really deep and thorough, to to bottom spring clean.
As part of this services we can clean windows inside and out. Take files off shelves, dust individually and put back. Also, dust on top of filing shelves and all the hard to reach places that the eye doesn't see. We can also carry out professional office carpet cleaning, and cleaning of computers, monitor screens, and other peripherals such as printers, faxes and telephones.
Where we clean
We provide office cleaning throughout London, including Victoria, Kensington, Chelsea, Westminster, City of London, Canary Wharf, Wapping, Stratford, and many more areas.
Free quote
We understand that having a clean space in which to work is vital for your staff's productivity. Not just a spit and polish and an occasional flick of the duster, but a really thorough office cleaning service you can rely on.
Whether you need regular cleaning, or one-off spring cleaning for your office, email or ring Starlet Cleaning on 0207 821 9732 to get a free no-obligation quote on office cleaning services in London.