Spring Cleaning Services in London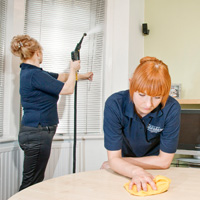 Here at Starlet Cleaning we offer professional and affordable domestic and commercial spring cleaning services in London.
You may often think of spring cleaning your home but like most people who think along these lines you keep putting off the day when you're going to have to give your house a thorough clean. You are full of good intentions but you never seem to have the time due to your busy lifestyle. Any spare time you do have you'd rather spend it with the family than getting grubby while you get your home clean.
Does this sound familiar? Well, this is where we can help you! Starlet Cleaning offers customers a professional and intricate spring cleaning service that may include:
Kitchen cleaning – cleaning the inside of cupboards, and the inside and outsides of ovens, plus the cleaning of  switches and sockets, microwaves, fridges, cookers, surfaces such as cooker tops, countertops, tables, window frames and window panes, doors, skirting boards and floors.
Bathroom cleaning – de-scaling of bath and showers, alongside bathroom tiles, shower doors, wiping of surfaces which includes sinks, toilets, mirrors, tubs, floors, windows, and full thorough disinfecting of high hygiene areas such as the lavatory
Complete house spring cleaning – All areas of the home can be cleaned to perfection including all living areas including conservatory, lounge, stairs, bedrooms, hallways and more. Optional steam cleaning can be utilised on all carpets for maximum cleanliness as well as basic vacuuming and mopping services
Spring cleaning – what's involved?
We send in a professional cleaning team, with top quality equipment and materials, to blitz clean your home from to bottom. No stone is left unturned in delivering a thorough and deep spring clean of all areas.
As part of our service we can clean your carpets and upholstery, your outside windows, and your blinds.
Our services are insured to give you peace of mind that your spring clean is in safe hands.
Commercial and office spring cleans
We can also offer businesses and offices in London a regular spring clean of their premises so if you want to give your office a thorough annual spring clean contact us to discuss your office spring cleaning requirements.
All over the capital
We are situated in Westminster and can provide domestic and commercial spring cleaning all over greater London. For more information please check the areas we cover.
Contact us for a free quote
Got a question, or want to book our spring cleaning service in London service?  Call us today on 0207 821 9732 or you can email us.