Professional Oven Cleaning in London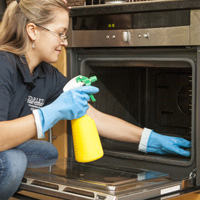 Here at Starlet Cleaning, we are a leading cleaning company in the UK and offer exceptional scrubbing and oven cleaning services in London.
We can provide a professional oven cleaning service to:
Homes
Restaurants
Pubs
Schools
Canteen and other Commercial Kitchens
And more…
You can trust that we are a reliable and professional London oven cleaning company with extensive experience in the industry, and all our oven cleaners are fully trained, friendly and respectful. Therefore, you can trust your oven will look as good as new when you come to us.
On top of oven cleaning services, we also offer other services including Carpet Cleaning, Floor Buffing and Cleaning, domestic cleaning and so much more. Browse our website to find out more.
For more information on our oven cleaners or a quotation, please contact us today. As we are a leading London oven cleaning company, we can provide our exceptional service across the capital city.