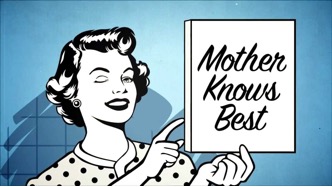 It's Mother's Day at the weekend and, here at Starlet Cleaning, we've all been talking about our Mums and how we can spoil them on Sunday. However, as well as discussing the most impressive flower bouquets and best places for Sunday lunch (what's your favourite haunt – do let us know!), we've also found ourselves reflecting on words of wisdom our Mothers have passed on to us. There's no doubt about it, as far as 'top home cleaning tips' that last the test of time, Mother certainly knows best.
Mum's best piece of advice

One piece of advice that we have all taken on board is "Always come back to a clean and tidy house!" Whether it's at the end of a busy day at the office or a well-earned break in the sunshine, there is something so comforting about coming home to a spotless home. We all know that there is no magic cleaning fairy, so in order to follow Mum's advice we believe that we should "always leave our homes clean and tidy!" Sounds like hard work? It doesn't need to be; as the great Chinese teacher, Confucius, once said "Life is really simple, but we insist on making it complicated." A few minutes spent cleaning up those pesky breakfast dishes before you leave in the morning can make home-time so much more enjoyable.
Moving home?
We would even extend these words of wisdom to when you are leaving your home for pastures new. Remember those apartments or houses that you moved into and the first thing you had to do was roll your sleeves up and don your marigolds? Doesn't you heart just sink at the memory? We've heard from countless people how the joy of getting keys for your new home can quickly be replaced by despair as the door opens to a cleaning equivalent of Everest.
On the contrary, can you remember how delighted you felt if you have been fortunate enough to move into a new home that was left in immaculate condition by the previous occupants? Didn't that just make your day and help you fall in love with your new house? And we can guarantee that you felt respected and cared for – just what Mum would wish for. We can sense you smiling as you read this!
Top tips to make moving a squeaky clean process
Our motto is "leave your house as sparkly-clean as you hope to find your new one." We have even prepared some top tips for you:
Preparation, preparation, preparation! Don't leave it all until the last minute. If possible, dedicate a couple of hours a week to packing away what you want to take with you, recycling what you no longer need and cleaning out drawers and cupboards.
Invite your friends to help: why not having a 'leaving house' type of party? But, leave the celebrations for your new home. At this gathering, provide your guests with mops, buckets, gloves and any other cleaning paraphernalia that you think they will need. If your friends are of the competitive type you could put them into teams and see who can pack and clean a room in the quickest time. Remember to keep them interested with promises of liquid rewards in your new home!
Be thorough – remember to clean those sticky finger marks off doors and handles. And if you have children, clean at their height level too – you will be surprised at what you may find!
Remember how much you have loved your home – and how, in time, the new occupants will love it too. Try to tap into this energy as you set about your cleaning. Try to give yourself enough time to ensure that you leave your home as you would like to find it.
Need some extra help?
As we know, life in the 21st Century is a bit different to Mum's "golden olden days". Moving house consistently rates as one of modern-day life's most stressful events. Much as we know you would love to leave your property spick and span for the new occupants, we appreciate that the best laid plans can often be abandoned when life gets in the way.
That's why, here at Starlet Cleaning we have bespoke home cleaning services that help to ensure both your home and your conscience are clean as you bid farewell to your home. Mother would definitely approve.