Limescale is a huge problem when cleaning kitchens and bathrooms in London because it is a hard water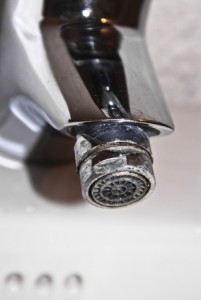 area.  Lots of elbow grease and time can be needed to keep taps, tiles, and kettles sparkling and limescale free.
If you want a quick and effective conventional cleaning solution there are many limescale removal products available in most supermarkets.  Limelite is one that is good for kitchens and bathrooms and will normally remove that ugly white residue from taps, sinks, and showers.
For really hard and stubborn limescale you will need a acid based limescale remover such as Harpic, which will blast away limescale from places like toilet bowls.
However, if you don't like the idea of using strong chemicals, and prefer a more eco friendly cleaning solution to the problem, white vinegar is good for limescale.  Mix white vinegar and borax. Put the mixture on sufaces and taps and wash off after a few hours. You can soak shower heads in white vinegar too.
Lemon juice is another natural cleaning agent that is good for removing limescale.  Soak a paper towel in lemon juice and wrap around taps for about an hour.  Wash off and the taps will be sparkling again.
Whatever approach you take the results can be amazing with tiles, taps, and stainless steel surfaces and appliances sparkling and gleaming like new again.
Starlet Cleaning's house cleaners in London are all experienced in removing limescale from your home,  and we can also supply good limescale removing products that will be sure to leave your kitchens and bathrooms sparkling.