Finding a good cleaning service can be a challenge. Use our handy guide to make sure your home cleaning is in safe hands.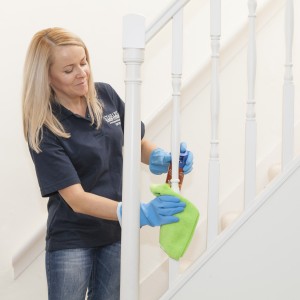 There are thousands of cleaning services and individuals offering to lighten your load by cleaning your home for you. Because there are so many knowing who to hire can seem impossible. So it is vital to find a good cleaning service, offering clear terms of service and competitive prices, so you can select the best. Follow our guide here.
10 tips for finding a cleaning service
1. Check a cleaning service is a member of a trade association – the British Institute of Cleaning Science, or British Cleaners Association, for example.
2. Ask friends and neighbours for recommendations.
3. Check for reviews online.
2. Ask if you can speak to some of the company's customers for references.
4. Check whether the cleaning company employs its own staff or uses sub-contractors.
5. Does the cleaning service have insurance? Should any accidents or theft occur a reputable provider will take responsibility. If you choose a service that doesn't have employers and public liability insurance it will be your responsibility.
6.  Always ask for a detailed quote with what's included, holiday and sickness cover for example if your regular cleaner is off.
7.  Ask if the cleaning company vets their employees for the legal right to work in the UK for example, and criminal background checks.
8. Don't go for the cheapest. Employing good people isn't cheap, and when you add training and insurance into the equation cheap cleaning often means bad cleaning. A cheap cleaning company will be paying their staff peanuts and the cleaner will not be motivated to do you a good job and will quit in no time at all.
9. Decide what cleaning tasks you need doing. Is it only light cleaning, or will you need windows, carpets, and upholstery doing from time to time. Find out what the cleaning service can offer and what you will have to pay additionally for.
10. Hire a professional cleaning company not an individual. If you are paying a cleaner direct you are their employer and in the eyes of the law you will be responsible for paying taxes and national insurance from their wages. Also, if the cleaner has an accident while cleaning your home you could be liable for any injuries. You need to ask yourself if you want to take on these responsibilities.
If you are looking for quality domestic cleaning services in London browse our website and contact us for a free quote.