The kitchen is at the heart of everyone's home. For many it's the place where people gather – for family meals, dinner parties, or a coffee and a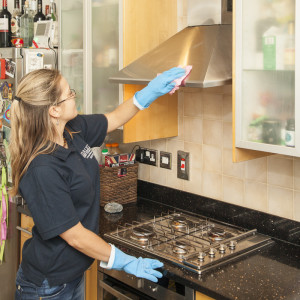 chat with a friend or neighbour – and that's not to mention all the family cooking that goes on every day!
With people constantly coming and going it can be difficult to keep a kitchen looking clean and tidy. Germs can also spread so it's important to protect your family with simple cleaning and hygiene practices, maintaining clean surfaces, storage cupboards and so on.
Ideally, to stop things becoming a chore, you should clean daily as you go along. If you don't things can get out of hand very quickly with surfaces and appliances becoming messy, grimy, and greasy. So aside from the basic washing up and wiping you should spend a little time on what you use. Wash up your utensils as you cook, mop up spills as they happen, clean the hob and oven including roasting tins after you cook. In these ways your kitchen will be cleaner and more manageable.
However, even if you are disciplined and clean as you go every day, everyone should treat their kitchen to a thorough spring clean three or four times a year. To help you keep things sparkling and hygienic here are a few spring cleaning tips to keep your kitchen looking show-room perfect!
Ceilings, walls, and tiles
Start by removing any items that may be stored on top of your cupboards and place them on to work surfaces. Wipe the area of worktop you place them on frequently.
With a soft, long-handled brush lightly brush the ceiling, especially if it has an artex pattern design. For a flat ceiling put a cloth on the head of a brush and gently move back and fore over the ceiling.
After you have done the ceiling check and clean any light fittings.
Clean walls and tiles in the area from the ceiling to below the tops of cupboards, and the cupboard tops themselves, using a cloth rinsed in hot water containing detergent.
Next, wipe all items removed from the tops of cupboards and, when everything is dry, replace. Rinse cloths and change water frequently as you go along.
You can then clean the walls and tiles down to worktop level, again using a rinsed through cloth.
Kitchen cupboards
Systematically empty cupboards one by one onto worktops. Remember to wipe an area of worktop as you go in readiness for placing items removed.
As you remove each item check all labels on tins, jars etc. Discard any that are out of date, wipe all bottles, jars etc in readiness for putting back. Clean inside of each cupboard with a cloth rinsed out in hot water with detergent. When all are dry replace. Continue along these lines with each storage cupboard.
Empty cupboards containing crockery, pots and pans. Check all items making sure they are clean before replacing.
Empty drawers, clean all items such as utensils etc, clean and reline drawers, replace items.
Empty your cleaning materials cupboard, check all items such as bleaches, detergents etc, wipe all bottles and containers. Discard any items that may appear to be discoloured or unstable in any way. Clean the cupboard, again with a well rinsed out cloth. Once dry replace items that are for continued use.
The fronts of cupboard doors can be wiped with a cloth rinsed out well in hot water. If you have solid wooden doors consider waxing twice a year then each week wipe with a shammy leather rinsed out in hot water.
Do not forget to clean inside of each cupboard door as you go along.
Fridge and Oven
Fridges should be kept clean weekly. You can use bicarbonate of soda in water for this, (this job can be done before stocking up the fridge with your weekly shop). For spring cleaning remove all items and wipe inside of all areas of the fridge. Check all items to be replaced, discard any considered to be out of date. Restock.
Freezers should be defrosted regularly, every twelve weeks or so. Allow contents to run right down then there is not so much to consider storing while defrosting. Remember to switch the freezer off. Once defrosted wipe inside with a cloth rinsed in water containing bicarbonate of soda. Switch the freezer back on and restock.
There are lots of oven cleaners on the market plus good old brillo pads. Begin by removing shelves. The floor and roof usually slide out. Clean inside, which should be ok as it is protected by the pieces taken out. Clean each piece, rinse, and replace. Clean ovens every 2-3 months, more often if necessary. Giving the oven a good wipe after each use cuts down on the hard work.
Clean all work surfaces with a cloth rinsed out in hot water containing detergent. Wipe the table top, sides, legs, and the same with chairs or stools.
Vacuum the floor. If you have a tiled floor clean using a mop and bucket, rinse out the mop frequently in hot water containing detergent.
Don't forget the kitchen window. Wash the frame followed by the glass panes using a well rinsed out shammy leather. Depending on type of blinds clean using a dry clean cloth or use a rinsed out shammy.  Likewise doors and door frames.
Give your sink a good clean with hot soapy water and detergent to leave it gleaming.
Finally, rinse out your mop and bucket and store away along with the vacuum cleaner. Wash any cloths used throughout and put to dry.
We all want a clean, hygienic kitchen. Follow these top spring cleaning tips every three months to keep things in immaculate condition with the minimum of effort!
If you want to treat your kitchen to the professional touch we offer spring cleaning services in London for all the rooms in your home. Contact us for a free quote!