With after builders cleaning you never know exactly what you are going to face but as an established cleaning company in London there is little we haven't come across before.
Take these vinyl floors we cleaned at a new block of apartments recently. There were metres and metres of corridors like these over two floors plus staircases all covered in dust, plaster, paint, and debris left after construction.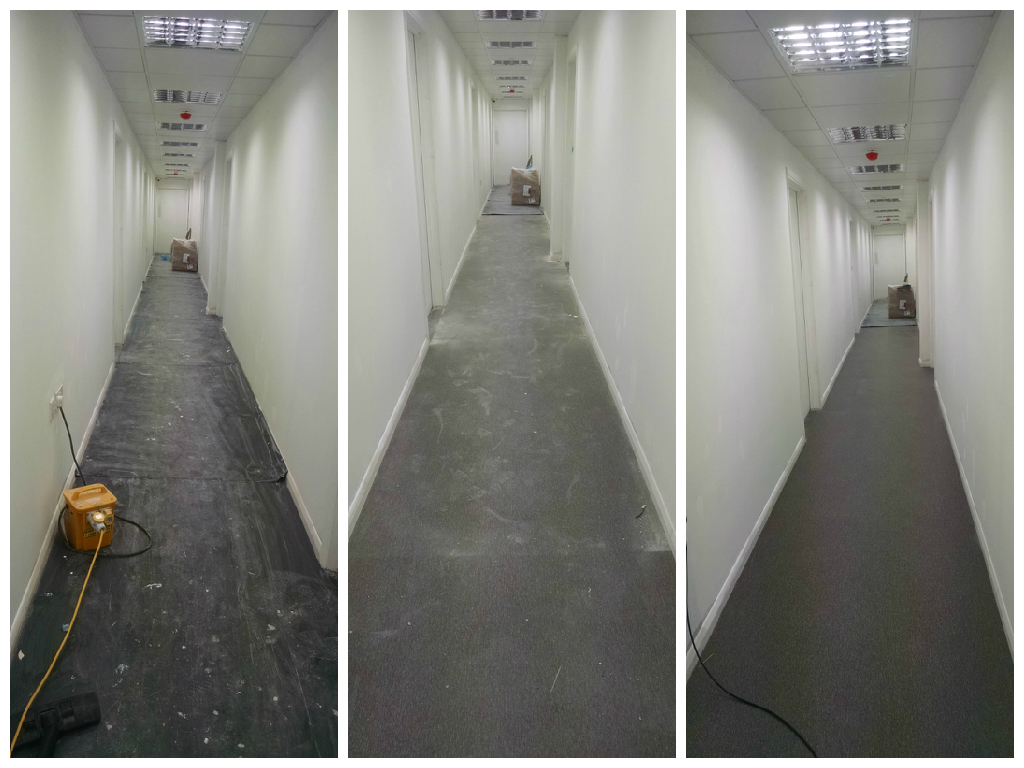 How we did it
To leave the flooring as spotless as you can see in the photo on the right above we first vacuumed then soaked the flooring with water, which helped remove some of the worst debris, dirt, and stains. The most difficult areas were brushed, and then scrubbed with a solvent, white spirit, and vinegar. Stubborn plaster and cement was removed with a scraper. Finally, the floors were finished off with a rotary buffing machine.
Builders Clean – Why Starlet?
It's not just flooring we can tackle. Our cleaners come armed with the best tools and equipment to handle anything and everything we are faced with, such as:
Removing all paint, putty, drywall filler, grout, mastic etc from surfaces
Cleaning windows including all paint, putty, mastic etc from both frames and glass
Vacuuming and clearing all debris
Tackling dust in every corner and crevice
Removing labels, protective covers, and packaging from new appliances and units
and much more
Our managed and supervised cleaning teams have years of experience in the construction industry, which means there is nothing they haven't encountered before. Building sites can be dangerous places with a number of potential hazards which is why our staff are all versed in health and safety considerations.
A builders clean is always a challenge, whether it's for a family home or a large block of apartments, but with our expert after builders cleaners you can be sure of a perfect result every time!
Contact us about a free initial inspection of your premises. Our quotes are tailored to individual requirements.