If you have had your office or other commercial premises renovated you will need to clean up before your employees can return to work and your organisation can start functioning normally again.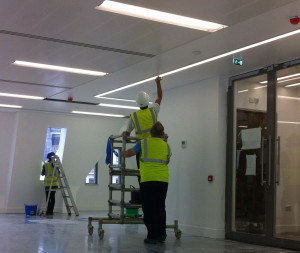 Open plan office spaces especially can be quite large, and a great deal of dust can be produced during renovation or construction, so you will need to book a professional cleaning team to come and clean it from top to bottom.
Typically, for a recently renovated office space you will be looking at a complete overhaul – windows, flooring, ceilings, fixtures, fittings, desks etc.
Cleaners will need to come armed with specialist equipment such as high-powered vacuum cleaners to remove dust, including from hard to reach high spaces, ceiling panels, air vents, etc. Surfaces especially walls, floors and skirting may need paint or plaster scrubbing off.
Upon completion of all building works a typical commercial post builders clean will include the following:
Office Space
De-tape and clean windows and frames from inside
Wipe over surface electrical goods to walls i.e. light switches, sockets, etc.
Vacuum fixtures, cupboards, and damp wipe doors, both sides
Raised floors swept, mopped, and residues extracted
Remove dust and all finger marks from ceiling panels
Reception
Clean over glass entrance door and windows, inside and outside.
Matt well vacuumed
Surface electrical goods to walls wiped over
Reception desk wiped
Stainless steel doors to lift wiped over
Lift car vacuumed
Floors vacuumed and mopped, residues removed
Staircases
Stairs vacuumed, dusted and damp wiped
Residues removed
Handrails and balustrades damp wiped and polished
Toilets and Showers
Tiled walls wiped over and dry buffed
Sanitary ware and shower heads wiped
IPS panels wiped over and dry buffed
Floors swept and mopped
Kitchens
Surfaces dusted and dry wiped along with appliances such as fridge inside and out
Floors vacuumed and mopped
Windows and other glass polished
Skirting boards and sockets wiped
Kitchen cupboards cleaned inside and out
Shelving wiped
Lift Lobbies
Wipe lift doors and clean floors outside the lifts.
While the above specification is for illustration purposes only it gives you an idea of what is involved in a full, top to bottom builders clean of a commercial premises. For large projects a post renovation cleaning service will require a on-site project manager to check the quality and progress of the works and liaise with you and/or your builder.
If you need a professional post builders clean for your London office or commercial premises visit our after builders cleaning page for more information, or contact us to arrange a free no obligation quotation. We work regularly with builders, construction companies, property developers, and shop fitters so whatever your project we can be of help.
A final thought worth noting is that having your premises in spotless condition after refurbishment can pay real dividends for your company image, customers, and workers. If you are a building company a clean premises will reinforce your work and prevent clients coming back with complaints.