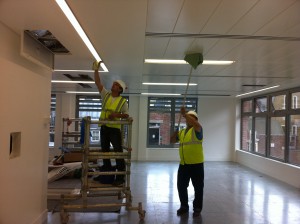 Despite signs of a return to economic growth and a modest recovery the construction industry in London is still facing very challenging times.
The building industry as a whole is very important not just to London but to the wider UK economy. In the UK as a whole, it accounts for ten per cent of GDP and employs more than two million people.  It's sometimes forgotten that it employs a range of highly skilled workers, including after builders cleaners.
During construction, and before a building is finished and handed over to a client, a construction company will want to ensure a project is properly cleaned to complete what may be months or years of hard work on the part of the builder.
Typically, depending on the project, a three tier cleaning solution will be needed – builders clean, re-clean, and sparkle clean.
After Builders Cleans – What's Involved?
After builders cleaners will need to de-tape and clean internal windows and frames.
They will need to wipe over all surfaces to make sure the building is dust free. Cupboards, fixtures, and fittings will need vacuuming, and doors washed or damp wiped both sides.
Floors will need to be swept, mopped, and residues, paint, and plaster removed.
Finger and other marks will need to be removed from ceiling panels.
Glass partitions and doors will need cleaning too.
In toilets and showers tiled walls will need to be wiped over and dry buffed. Sanitary ware and shower heads will need to be wiped. Labels will need to be removed.
Outside windows will need to be professionally cleaned including de-taping, and cleaning of glass and frames.
Hard floors may need buffing and polishing.
Health and Safety
Building sites under construction can be dangerous places. Risk assessments will need to be carried out before cleaning starts to protect staff and ensure work is carried out in a safe, professional, and efficient manner.  After builders cleaners will need to be CSCS qualified and take a responsible approach to Health & Safety. They will need to wear personal protective equipment including gloves, protective safety boots with good grip and anti-slip properties, helmet, and high vis vest.
Sparkle Clean
With many commercial construction projects taking months or years of work to complete it is important that the finished project is handed over to a new client for use and occupation in sparkling condition. In this regard the importance of having skilled and experienced after builders cleaners with expertise in builders cleans and sparkle cleans cannot be over emphasised.
Starlet Cleaning is a leading provider of commercial after builders cleaning in London. We have a supply of highly skilled and qualified talent to help deliver and complete building projects. We can provide risk assessments, a health & safety policy, COSHH sheets. We are fully insured, and registered with the Construction Industry Scheme. As part of our commercial post builders cleaning service London we offer floor buffing and polishing services, and professional outside window cleaning.